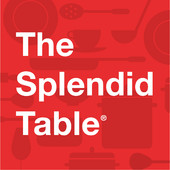 I've been travelling a lot to and from West Palm Beach, FL lately. My boss is down there and I'm working on a project that has a built in reason to be there as often as I can be. There are worse places, yes.
So with time to kill driving and flying I've been catching up on podcasts. After working my way through all the Wait Wait Don't Tell Me episodes, I moved on to second tier (Science Friday, Computer Guys and Gals, and Dinner Party Download) and then third tier. One of the third tier, Splendid Table, is moving up in the ranks.
They had an eposide on cooking goat. There are a lot of good things, apparently, about goats mostly centered on the fact that they will eat almost anything, anywhere, and are sustainable. People all over the world have eaten goat for millenia and it's apparently hitting the US green/foodie market big time. One of the places is Austin (Texas has a lot of arid land that is goat-friendly). Very young goat, Cabrito, is very sought-after.
So I decided when I got home I'd find some and give it a try.
It hasn't been as easy as I thought. But that makes it interesting.