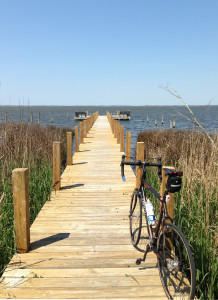 Too many things are a competition…me vs someone or me vs me. Cycling is like that a lot,  especially since I have a cateye (avg mph is the gold standard) and a heart rate monitor (how high can i drive my heart rate for how long). And I don't like people to pass me. I usually get past them before it's over.
Today was different. As I was riding into a stiff wind, and I'm getting over my Tough Mudder hamstring tear, I just geared down and decided to enjoy the ride. About 5 miles out I stopped to adjust the saddle which added a lot to the enjoyment of the rest of the ride. The weather had finally turned warm, it was sunny, and I just kept going. Before I knew it I was in Duck. I explored a couple of side roads and then walked out onto the pier.
Amazing…riding for sheer enjoyment?